LIVER - Moringa oleifera with milk thistle 30g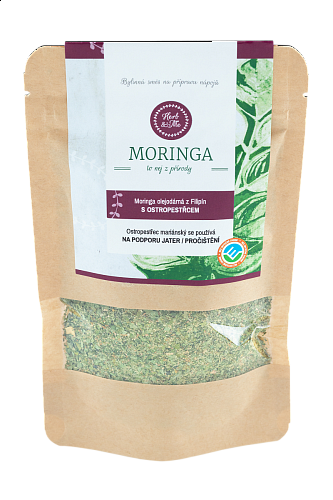 Milk thistle is known for its significant influence on the cleansing of the liver and its proper function. However, few people know that it induces normal blood sugar levels. Moringa is also widely used in traditional Ayurveda to alleviate the symptoms of diabetes. The mixture of these two plants is suitable for everyone who is looking for a helper for their body.

Ingredients: Moringa oleifera- leaf 70%, Milk thistle - 30%
Instructions for preparation: Pour the herbal mixture with hot water at max. 80 ° C in the ratio of 1-2 teaspoons to 1.5-2 dl. To prepare a drink in the kettle, add 1 teaspoon extra. Extraction time 8-10 minutes (covered cup), then strain.
Dosage: Recommended dosage 2-3 times a day cup (1.5-2 dl).
Storage: Store at a temperature of 5 to 25 ° C in a dry and dark place. Do not expose to direct sunlight.
Weight: 30 g
Country of origin:
Moringa oleifera: Philippines
Milk thistle: Czech Republic
Supplier:
Ivana Bednářová Častvajová
Jana Beneše 402
55102 Jaroměř
Buy