Couscous with dried tomatoes and moringa, 300g = 6 servings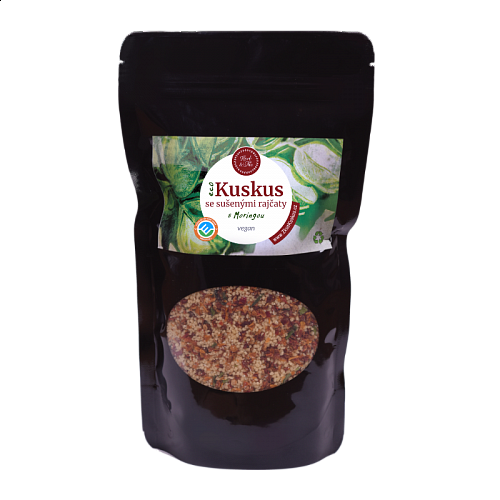 Couscous with an Italian taste, with the smell of dried tomatoes. Vegan, easy and delicious.
We pour 300 g of couscous with two tablespoons of olive oil, tehn we add 600 ml of boiling water and let it swell. We serve as a main course or as a side dish. Good for breakfast, snacks, to work or as a dinner.
More info
Ingredients:
Couscous (contains gluten), dried tomatoes (10%), garlic, onion, paprika flakes, black pepper, chives, edible salt, rapeseed oil, moringa oleifera.

Nutritional values in 100g:
Energy value: 301 kcal / 1264 kJ
Fats: 1.4 g
of which saturated: 0.25 g
Protein: 9 g
Salt: 1.8 g
Carbohydrates: 60 g
of which sugars: 1.5 g
Fiber: 3 g
Sodium: 0.72 g
Contains allergen: gluten
Weight: 300 g
Supplier:
Ivana Bednářová Častvajová
Jana Beneš 402
55102 Jaroměř
Buy