STOP civilization diseases - Liposomal vitamin C and Vitamin D with moringa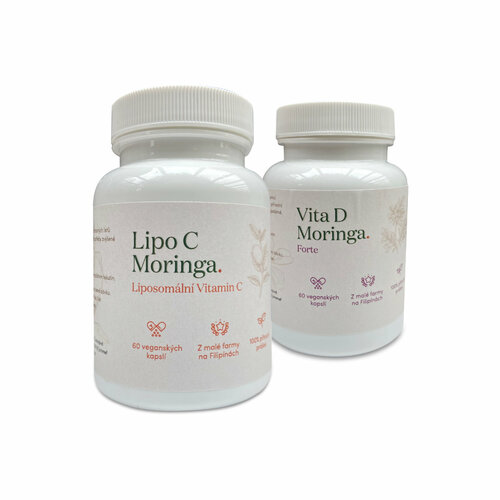 Lipo-C-Moringa Forte contains natural vitamin C with liposomal absorption and natural powder from the crushed leaves of Moringa Oleifer from the Philippines.
The liposomal form of vitamin C, compared to regular vitamin C, maintains several times higher levels of this vitamin in the body and thus increases its defenses against current and civilization diseases. It does not irritate the stomach, and its effectiveness is comparable to the infusion of vitamin.
The presence of moringa increases the absorption of the vitamin into the body, regulates metabolism and reduces blood sugar. This unique combination of substances provides 2 months of basic care for your health.
Vita D with moringa represents a unique combination of liposomal plant vitamin D and oleiferous moringa. This supplement will supply you with the necessary vitamins and substances necessary for your immunity. In capsules, there is more than twice the amount of the recommended daily dose.
More info
Lipo C with moringa
Ingredients: 1 capsule contains 250 mg of Phosphatidylcholine-phospholipid complex – sunflower lecithin of which 169mg of vitamin C (211% RDA) and 170 mg of powder of ground leaves of moringa oleifera (Moringa oleifera). The capsule is of plant origin (HPCM). It does not contain any additives or dyes.
Composition of Vita D Moringa: 1 capsule contains 275 mg of ground leaves of Moringa Oleifera (Moringa Oleifera), 125 mg of Lalmin® Vita D®, of which 25 mcg (1000 IU) of Vitamin D2 (ergocalciferol), vegetarian capsule (hydroxypropyl methyl cellulose). Free of additives and dyes.
Buy