For more effective weight loss with Philippine moringa 2x30g, capsules (90)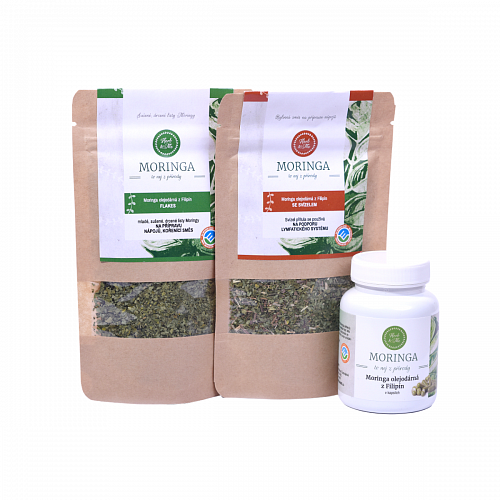 This package is recommended by nutritionists and nutrition therapists!
It is very difficult to lose weight fast and especially HEALTHY and PERMANENTLY. Our Moringa from Philippines will help you a lot - it will speed up your metabolism, reduce blood sugar and cholesterol, adjust your intestinal microflora and add energy as a bonus.
Moringa oleifera or "Green Diamond" contains the necessary nutrients needed for your body, an incredible amount of nutrients and antioxidants. The organism does not suffer so much, all the functions of the organs work as they should. So you have boosted immunity, moringa speeds up your slowing metabolism, you feel heavier and full of energy. Remember, we have our immunity, especially in the intestines !!!
Moringa from Philippine farms contains a huge dose of fiber, but you do not eliminate nutrients from the body. On the contrary, the plant hormone zeatin, which moringa contains, multiplies the usability of nutrients for your body! At the same time, this hormone slows down the aging of cells - hence the energy. Nutrition counselors use moringa capsules in their nutrition plans, the weight goes down without a "yo-yo" effect, try it too.

The package contains:
Moringa capsules (90 pcs.), Moringa crushed leaves for drinks and food, (30 g), Moringa with catchweed (30 g)
The package contains pure moring leaves, from which you can make a drink or add it to your meal - get inspired by our recipes! Moringa in this design has a taste reminiscent of our nettle, it is delivered to meals for the last 5-10 minutes of food preparation. It emphasizes the taste of the food itself, put it in salads - your family will not notice the changes, you will enrich the food with valuable nutrients and antioxidants.
The herbal mixture with moringa and catchweed acts on your lymphatic system, the herbal catchweed supports the normal functioning of the lymphatic system, which performs a cleansing and immune function and at the same time acts as an important antioxidant. It also supports normal digestion and has relaxing effects - it helps with falling asleep. It also has a positive effect on the normal functioning of the liver and bile ducts.
Moringa oleifera supports normal blood glucose levels.
More info
Herbal mixture with catchweed:
Ingredients: Moringa oleifera - leaf 70%, Catchweed 30%
Instructions for preparation: Pour the herbal mixture with hot water at max. 80 ° C in a ratio of 1-2 teaspoons to 1.5-2 dl. To prepare a drink in the kettle, add 1 teaspoon extra. Extraction time 8-10 minutes (covered cup), then strain.
Dosage: The recommended dosage is 2-3 cups a day (teaspoon for 1.5-2 dl).
Storage: Store at a temperature of 5 to 25 ° C in a dry and dark place and do not expose to direct sunlight.
Weight: 30 g
Country of origin:
Moringa oleifera: Philippines
Catchweed: Czech Republic

Capsule:
The powder is a high quality, dried and ground leaves of this plant, which is called the "Tree of Life", contains 90 nutrients and 48 antioxidants. It is an excellent source of vitamin A, vitamin C, iron, protein, fiber, calcium, magnesium and potassium.
Moringa oleifera capsules are recommended as a nutritional supplement for adolescents, seniors, sports and active people, for people exposed to stress or physical exertion, or for often ill people.
Content: 90 capsules / 500 mg moringa oleifera 100% natural
Ingredients: 100% moringa oil powder, vegan capsules, do not contain preservatives and artificial colors.
Recommended dosage: 2-6 capsules daily.
Storage: Store at a temperature of 5 to 25 ° C in a dry and dark place.
The product is not intended as a substitute for a balanced diet. Keep out of reach of children. Not intended for children under three years of age and pregnant women without consulting a doctor.
Do not exceed the recommended daily dose (recommended 2-6 capsules daily)
Country of origin: PHILIPPINES

Crushed leaves, flakes 30 g
A pure moringa drink has a very pleasant sweet taste. Moringa flakes can be added to cold food (yogurt, muesli, salads) or directly during cooking and baking (goulash, sauces, soups and meat).
Ingredients: 100% Moringa Oleifera - flakes
Recommended dosage: 2-3 g per day, in the form of an extract (drink) - 80 ° C water, pour 1 teaspoon 1.5 - 2 dc, leave to infuse for 8-10 minutes, or by adding to food
Storage: Store at a temperature of 5 to 25 ° C in a dry and dark place. Do not expose to direct sunlight.
Weight: 30 g
Country of origin: Moringa oleifera
Plant: Philippines
Supplier:
Ivana Bednářová Častvajová
Jana Beneše 402
55102 Jaroměř
Buy