Young dried leaves (moringa FLAKES), 30g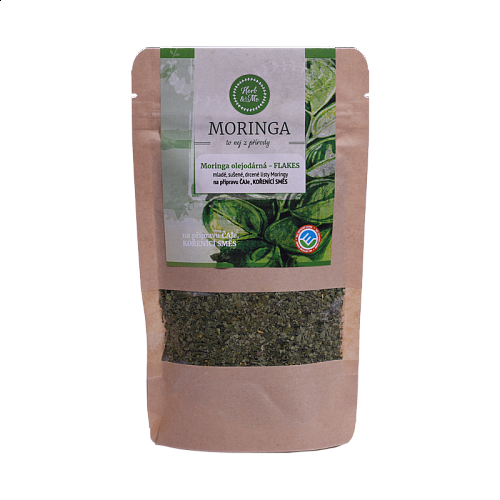 Moringa Flakes are finely cut dried young moringa leaves with a wide range of uses. This moringa of the highest quality comes from a family farm in the Philippines. It is gently collected, hand-processed and dried in the shade of well-ventilated halls. It does not contain any molds, its quality is also proven by the bright green color and taste. Moringa oleifera supports normal blood glucose levels.
More info
A pure moringa drink has a very pleasant sweet taste. Moringa flakes can be added to cold food (yogurt, muesli, salads) or directly during cooking and baking (goulash, sauces, soups and meat).

Ingredients: 100% Moringa Oleifera - flakes
Recommended dosage: 2-3 g per day, in the form of an extract (drink) - 80 ° C water, pour 1 teaspoon 1.5 - 2 dl, leave to infuse for 8-10 minutes, or by adding to food
Storage: Store at a temperature of 5 to 25 ° C in a dry and dark place. Do not expose to direct sunlight.
Weight: 30 g
Country of origin: Moringa oleifera plant: Philippines
Buy