Moringa in tea bags (18 pcs)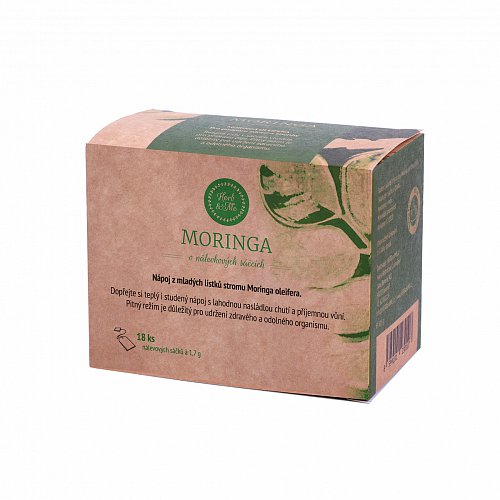 Portioned moringa intended for the preparation of a drink.
Moringa oleifera support normal blood glucose levels.
The richest in nutrients are those leaves that are from organically grown moringa trees. Another criterion is the length and temperature of drying.
Slow, gentle drying up to 42 ° C is ideal, which allows you to preserve the delicate taste of the leaves, but especially all important bioactive nutrients. When dried quickly at high temperatures, some of the nutrients can be degraded, which also affects the color and smell of the hot drink.
More info
Ingredients: dried leaves of Moringa oleifera 100%
Storage: Store in a dry and cool place, do not expose to direct sunlight
Recommended dosage: 1-3 cups a day.
Instructions for preparation: 80 ° C water, infusion time 5-10 minutes, cup 200 ml
Weight: 30.6 g, 1 bag 1.7 g moringa oleifera 100%
Made in India.
Supplier:
Ivana Bednářová Častvajová
Jana Beneše 402
55102 Jaroměř
Buy