Moringa for fast and sustainable weight loss, 2x capsules (180pcs) and bagged tea (18pcs)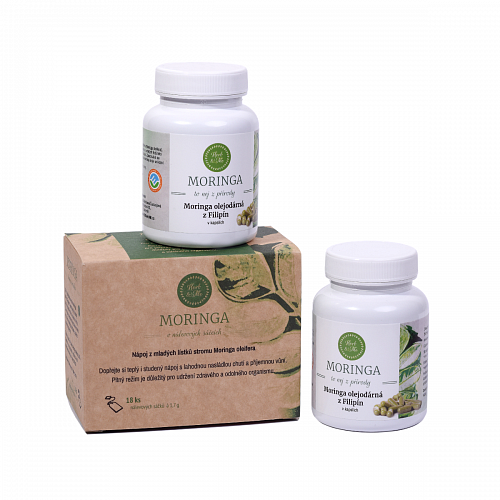 The package contains two packs of capsules with moringa oleifera grown in the Philippines and moringa in infusion bags (18 pcs).
Designed mainly for those who want a quick result and a large dose of energy. The double packaging of capsules guarantees the continuity necessary for the weight loss process and order in the intestines.
The powder in capsules is a high quality, dried and ground leaf of this plant, which is called the "Tree of Life", contains 90 nutrients and 48 antioxidants. It is an excellent source of vitamin A, vitamin C, iron, protein, fiber, calcium, magnesium and potassium. The package is complemented by bagged tea containing young crushed moringa leaves, we recommend drinking 3 times a day (250ml). For quick effect and sustainability, supplement with capsules with a dosage of 6 capsules daily (morninga, noon, evening). We recommend drinking tea 2-3 times a day 250ml, you can pour twice.
If you lose weight or need to adjust your metabolism, moringa is the right thing to do. It contains a large amount of fiber, but also zeatin (plant growth hormone), which multiplies the utilization of nutrients for your body and at the same time slows down the aging of cells.
Many studies have shown the beneficial effects of drinking a moring drink on blood sugar levels.
Speed ​​up your natural and effective way by slowing down your metabolism!
More info
Content: 90 capsules / 500 mg moringa oleifera 100% natural
Capsule composition: 100% moringa oil powder, vegan capsules, do not contain preservatives and artificial colors.
Recommended dosage: 2-6 capsules daily.
Moringa - funnel bags: Moringa portioned: 18 bags (1.7 g), moringa oleifera
Instructions for preparing the drink: Fill the funnel bags with hot water max. 80 ° C, the bag for 1.5–2 dl.
Beverage dosage: Recommended dosage 2-3 times a day cup (1.5-2 dl).
Capsule dosage: 2-6 capsules daily
Storage: Store at a temperature of 5 to 25 ° C in a dry and dark place. Do not expose to direct sunlight.
Country of origin: PHILIPPINES
Supplier:
Ivana Bednářová Častvajová
Jana Beneše 402
55102 Jaroměř
Buy