BLOOD CLEANING - Moringa oleifera with nettle 30g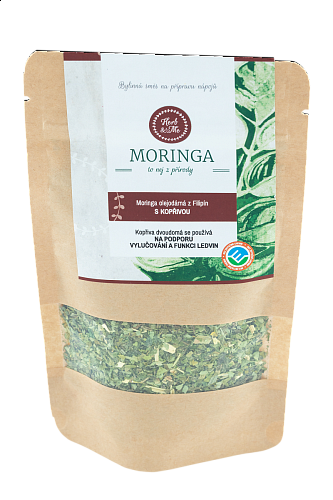 A mixture to support the excretion and function of the kidneys intended for the preparation of a beverage
A mixture of moringa and nettle. Nettle perfectly cleanses the blood, increases the production of red blood cells and hemoglobin and cleanses the body of uric acid deposits.
Moringa oleifera supports normal blood glucose levels.
More info
You know that the flooding of the body can have an adverse effect on the state of many functions of the human body. It also has a negative effect on cellulite, for example. Stinging nettle contains minerals and iron and supports the normal condition of bones, hair and nails, the normal functioning of the vascular system and is a helper for those who have "heavy legs". It supports the excretion of water from the body and the normal functioning of the cardiovascular system.
Stinging nettle also strengthens the normal activity of the gastrointestinal tract - the movement of the intestines - microflora and the overall condition of the organism. It supports the normal condition of the joints as well as the normal function of the prostate. Supports normal respiratory system functions.

Ingredients: Moringa oleifera - leaf 70%, Stinging nettle - root 30%
Instructions for preparation: Pour the herbal mixture with hot water at max. 80 ° C in the ratio of 1-2 teaspoons to 1.5-2 dl. To prepare a drink in the kettle, add 1 teaspoon extra. Extraction time 8-10 minutes (covered cup), then strain.
Dosage: Recommended dosage 2-3 times a day cup (1.5-2 dl).
Storage: Store at a temperature of 5 to 25 ° C in a dry and dark place.
Weight: 30 g
Country of origin:
Moringa oleifera: Philippines
Stinging nettle: Czech Republic
Supplier:
Ivana Bednářová Častvajová
Jana Beneše 402
55102 Jaroměř
Buy