LYMPH - Moringa oleifera with Cleavers, 30g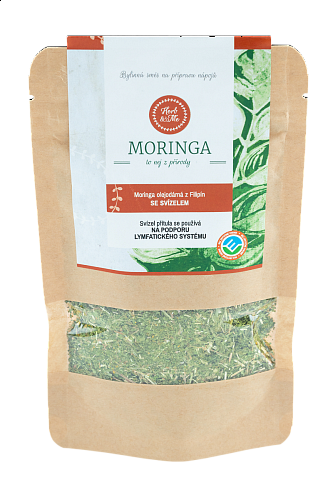 A mixture to support the lymphatic system for the preparation of a beverage.
Cleavers supports the normal functioning of the lymphatic system, which performs a cleansing and immune function and at the same time acts as an important antioxidant. It also supports normal digestion and has relaxing effects - it helps with falling asleep. It also has a positive effect on the normal functioning of the liver and bile ducts.
Moringa oleifera supports normal blood glucose levels.
More info
The lymphatic system is a very important part of the human body. It has an irreplaceable immune and cleansing function. It removes harmful substances from the body, but also fats, on the contrary, it brings nutrients into the blood. Its proper function directly affects the balance of the body's internal environment.
Cleavers induces the normal state of the lymphatic system and, like Moringa, is a natural antioxidant. Antioxidant ability affects cell aging and regeneration.
Ingredients: Moringa oleifera - leaf 70%, Cleavers 30%
Instructions for preparation: Pour the herbal mixture with hot water at max. 80 ° C in the ratio of 1-2 teaspoons to 1.5-2 dl. To prepare a drink in the kettle, add 1 teaspoon extra. Extraction time 8-10 minutes (covered cup), then strain.
Dosage: The recommended dosage is 2-3 cups a day (teaspoon for 1.5-2 dl).
Storage: Store at a temperature of 5 to 25 ° C in a dry and dark place and do not expose to direct sunlight.
Weight: 30 g
Country of origin:
Moringa oleifera: Philippines
Cleavers: Czech Republic
Buy