Curcumin – Turmeric & Moringa (heart), 60 capsules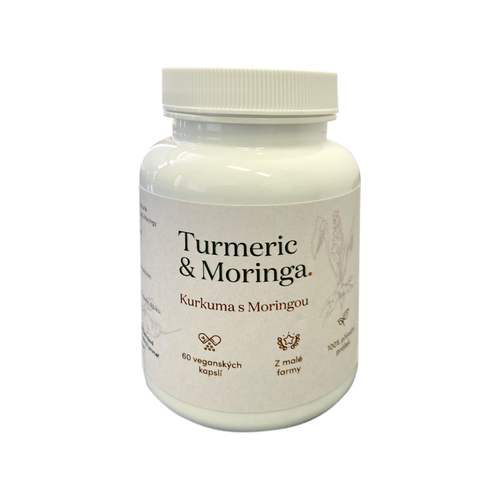 This unique combination of moringa and turmeric is aimed at your heart and vascular system.
Turmeric or Indian saffron is a spice from the dried ground rhizome of the long turmeric tree. In addition to the sharp yellow color that distinguishes turmeric from other spices, it is also known for its healing properties, supports legitimate digestion, normal liver or cardiovascular system and has anti-inflammatory effects.

Moringa from philippines
Contains a huge amount of vitamins, minerals, nutrients and antioxidants
Moringa lowers blood sugar and cholesterol
Contains zeatin, which slows down cell aging and charges you with energy
Regulates digestion and effectively helps with weight loss
More info
Dosage: unless otherwise specified, adults 1 capsule 1 time per day, washed down with a sufficient amount of liquid, if possible in the morning after meals.
Do not exceed the recommended daily dose.
Ingredients: 1 capsule contains 280 mg of ground leaves of moringa oleifera (Moringa oleifera) and 100 mg of Turmeric long (Curcuma Longa L.). The capsule is of plant origin (HPCM). It does not contain any additives or dyes.
Packing: 60 capsules, 380mg/1 capsule
Buy