Complex immunity - Moringa in capsules, Liposomal vitamin C, Vitamin D with moringa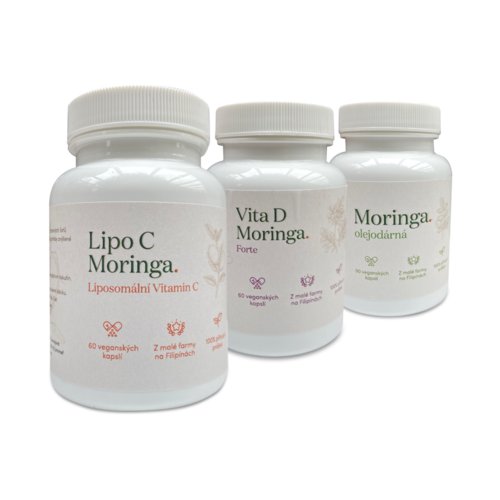 Trefoil health focused on digestion (weight loss or adjustment of microflora), immunity and respiratory system. This treatment will last you exactly 2 months.
With these supplements, you will supply the body with everything necessary for the proper functioning of the body's defenses. You will directly charge it with vitamins, minerals in the highest possible quality so that your body works exactly as it should.
Moringa is, above all, an excellent source of protein, vitamin A, C, D, potassium and calcium with a variety of isothiocyanates, flavonoids and phenolic acids. Moringa also helps keep blood sugar at normal levels. If you are trying to lose weight or adjust the intestines, moringa is the right thing to do.
The liposomal form of vitamin C, compared to regular vitamin C, maintains several times higher levels of this vitamin in the body and thus increases its defenses against current and civilization diseases.
It does not irritate the stomach, and its effectiveness is comparable to the infusion of vitamin. The presence of moringa increases the absorption of the vitamin into the body, regulates metabolism and reduces blood sugar. This unique combination of substances provides 2 months of basic care for your health.
Vita D with moringa - A unique combination of liposomal plant vitamin D and moringa oil with moringa will give you the necessary vitamins and substances necessary for your immunity. In capsules, there is more than twice the amount of the recommended daily dose.
Just 1 capsule of vitamin D and 2 capsules of moringa oleiferous, you can take as an intensive monthly treatment (2 capsules per day) or 1 capsule per day is enough, so it will last you for 2 months.
Moringa will increase the absorption of vitamins into the body. You can share the advantageous packaging with your partner, when this package will be enough for both of you for a month.
More info
Moringa oleiferous
Content: 60 capsules / 400 mg moringa oleiferous 100% natural
Ingredients: 100% powder moringa oleiferous, vegan capsules, do not contain preservatives and artificial colors.
Weight: 25g
Origin: Philippines
LIPO C with moringa 60 capsules
VITA D with moringa 60 capsules
Buy