Moringa for healthy cooking and grilling 3x 30, 1x100g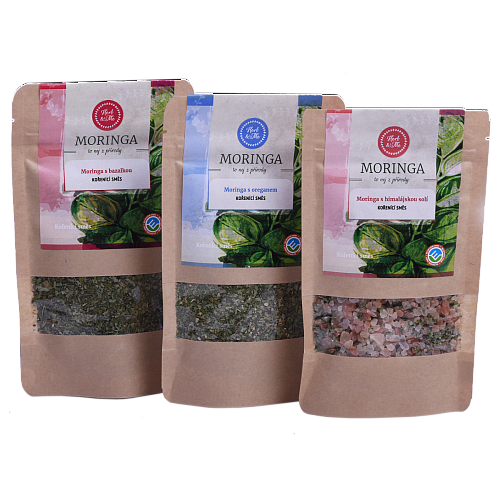 The package contains three mixtures of spices with crushed MORINGA leaves from a family farm in the Philippines. Moringa contains an incredible amount of nutrients and antioxidants, enhances its taste in food and adds nutritional value. Together with basil, it has a beneficial effect on the digestive tract and helps against bloating. The mixture of moringa with oregano can also be used as a tea, helps with coughs and facilitates coughing. But you can enjoy it especially in Italian and French cuisine as a typical spice. Himalayan moring salt contains 84 natural ingredients and minerals that are essential for health, including magnesium, potassium, calcium, sodium, phosphorus and iron.
Tip - add moringa with oregano, basil and Himalayan salt to the meat intended for grilling, or prepare delicious dips, dressings and pesto for meats or pasta.

Ingredients: Moringa oleifera - leaf 70%, basil 30%, weight: 30 g
Ingredients: Moringa oleifera - leaf 70%, oregano 30%, weight: 30 g
Ingredients: Himalayan salt 90 g, moringa oleifera 10 g, weight: 100 g

Use: Add to the food in the last phase of preparation 5-10 minutes before finishing.
Storage: Store at a temperature of 5 to 25 ° C in a dry and dark place. Do not expose to direct sunlight.

Country of origin:
Moringa oleifera: Philippines
Basil, oregano: Czech Republic
Himalayan salt: Pakistan
Supplier:
Ivana Bednářová Častvajová
Jana Beneše 402
55102 Jaroměř
Buy