Cure for 2 months - 2x VEG moringa capsules (180pcs in total)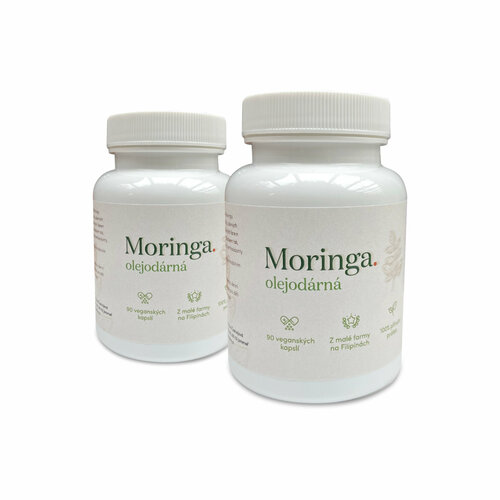 A two-month effective treatment will facilitate weight loss, adjust metabolism, supply the body with the necessary nutrients, vitamins and minerals.
In the autumn, the body does not have enough vitamins, minerals or antioxidants, of which moringa has an extreme amount. Take advantage of discounts and invest in your health!
More info
The capsules contain a pure powder of moringa oleifera obtained on a family farm in the Philippines guaranteeing the unique quality and unique properties of this plant. If you follow recommended dosage, you will supply your body with a huge dose of antioxidants.
Suitable for children and adults, nursing mothers, vegans and vegetarians or athletes.
We recommend supporting the treatment of tea for the lymphatic system (moringa with mullet) and deacidification (with angelica).
Content: 2x 90 capsules / 500 mg oil-bearing moringa 100% natural
Ingredients: 100% moringa oil powder, vegan capsules, do not contain preservatives and artificial colors.
Recommended dosage: 2-6 capsules daily.
Storage: Store at a temperature of 5 to 25 ° C in a dry and dark place.
The product is not intended as a substitute for a balanced diet. Keep out of reach of children. Not intended for children under three years of age and pregnant women without consulting a doctor.
Do not exceed the recommended daily dose.
Origin: Philippines
Dietary supplement
Weight: 2x 45g
Supplier:
Ivana Bednářová Častvajová
Jana Beneš 402
55102 Jaroměř
Buy