Cure for 3 months - 3x VEG moringa capsules from a family farm in the Philippines (270 pcs in total)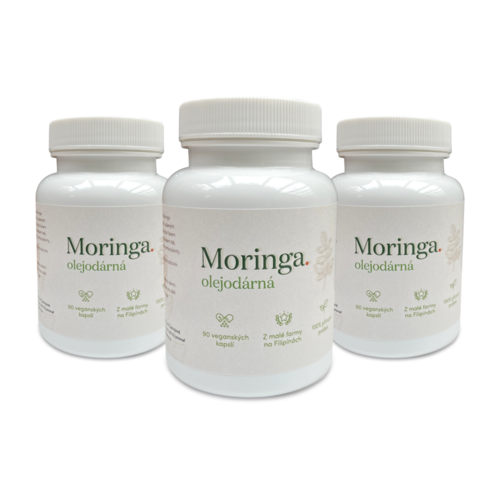 The best investment in health you will feel on your own body! Intensive and effective 3-month treatment. For everyone who wants a fast and sustainable result. It literally kicks you with energy, adjusts digestion or helps you lose weight. Simply give your body everything that this period needs to function properly.
More info
We recommend amplifying the result with a drinking cure (cleansing - with nettle, lymphatic system with auricle, deacidification - with angelica, liver circuit - with milk thistle)

Content: 3x 90 capsules / 500 mg moringa oleifera 100% natural
Ingredients: 100% moringa oleifera powder, vegan capsules, do not contain preservatives and artificial colors.
Recommended dosage: 2-6 capsules daily.
Storage: Store at a temperature of 5 to 25 ° C in a dry and dark place.
The product is not intended as a substitute for a balanced diet. Keep out of reach of children. Not intended for children under three years of age and pregnant women without consulting a doctor.
Do not exceed the recommended daily dose.
Origin: Philippines
Dietary supplement
Weight: 3x 45g
Supplier:
Ivana Bednářová Častvajová
Jana Beneše 402
55102 Jaroměř
Buy