THE SMELL OF THE FOREST luxury tea with moringa, 50g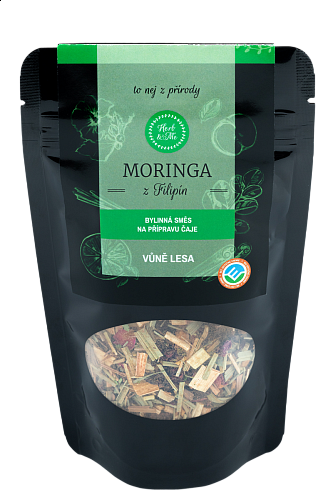 Herbal mixture with the smell of the forest. A refreshing, wonderfully fragrant and healthy variant - tea from moringa leaves from the Philippines will strengthen your immunity and, together with hibiscus and cinnamon, warm up the whole body. Let yourself be pampered with the Smell of the Forest. Moringa from the Philippines will supply your body with the necessary nutrients and antioxidants and strengthen your immunity.
More info
Ingredients:
Hibiscus flower, moringa, Pieces of apple, lemon grass, pieces of orange, natural aroma, rose hips, cinnamon, rose petals
Instructions for preparation: Pour the herbal mixture with hot water max 80 ° C in a ratio of 1-2 teaspoons to 1.5 - 2 dl. To make tea in a teapot, add an extra spoon. Extraction time 8-10 minutes (covered cup), then strain.
Recommended dosage: 2-3 times a day a cup (1.5 - 2 dl).
Storage: Store in a dry and dark place.
Weight: 50 g
Country of origin:
Moringa oleifera: Philippines
Other herbs: EU
Supplier:
Ivana Bednářová Častvajová
Jana Beneše 402
55102 Jaroměř
Buy