GOLDEN MORINGA - luxury tea with moringa, 50g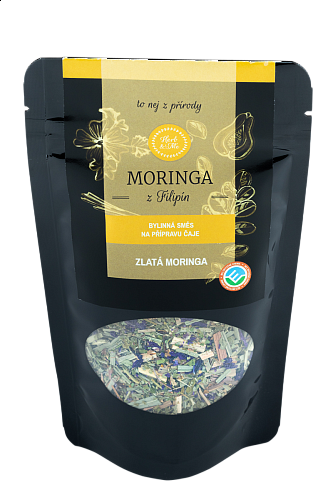 Ingredients:
Moringa, candied pineapple (pineapple, sugar), strawberry leaves, candied papaya (papaya, sugar), lemon grass, mallow flowers, natural aroma
Instructions for preparation: Pour the herbal mixture with hot water max 80 ° C in a ratio of 1-2 teaspoons to 1.5 - 2 dl. To make tea in a teapot, add an extra spoon. Extraction time 8-10 minutes (covered cup), then strain.
Recommended dosage: 2-3 times a day a cup (1.5 - 2 dl).
Storage: Store in a dry and dark place.
Weight: 50 g
Country of origin:
Moringa oleifera: Philippines
Other herbs: EU
Supplier:
Ivana Bednářová Častvajová
Jana Beneše 402
55102 Jaroměř
Buy